What it is
"But I'm not sporty!" You don't have to be,  Sports Therapy/Massage are common terms used to describe the broad range of approaches used to help people from any background get back to the activities that they love.
At Courtyard we have two Sports Therapists who have the skills and expertise to assess injuries and provide immediate care using techniques such as soft tissue massage, dry needling, taping, cupping, and hot stones. They will also plan and implement appropriate rehabilitation programs with you, specific to your desired goal.
Common Conditions
If you're experiencing pain or discomfort that is preventing you from living life to the full, then we can help.  From over-doing it in the garden or a pulled muscle during your couch to 5km, to back ache at work and aspiring Olympians looking to maximise recovery – we'll tailor our approach to you.  As a fantastic bonus, it is also known that massage helps reduce anxiety and depression. Sometimes there's simply nothing more stress-busting than a blooming good massage, an hour to yourself, and a chance to reset.
What to expect
Whilst every treatment is tailored to the patient right there and then, there are some common themes.  As experts in hands-on treatments, your therapist may suggest using massage, assisted stretching, cupping or dry needling.  However, we know that active participation in the treatment is also key, so you're likely to be exploring movements, learning about your condition, and practicing some rehabilitation techniques
What will it cost?
| | | |
| --- | --- | --- |
| 1 hour | £55 | Dyson / Student – £50 |
| 045 minutes | £45 | Dyson / Student – £40.50 |
| 30 minutes | £35 | Dyson / Student – £32.50 |
| 16yrs and under- 1 hour | £44 | |
| 16yrs and under- ½ hour | £30 | |
Meet Our Sports Therapists
At Courtyard Clinic Malmesbury, Georgina,  Matt and Sarah are our sports therapists. Find out more about them by clicking below.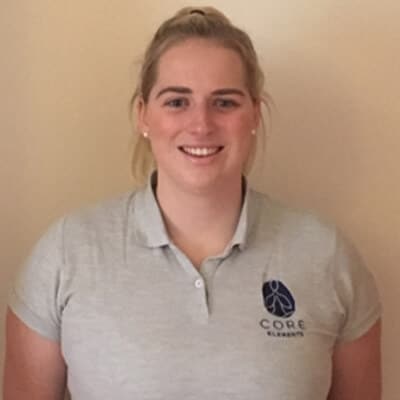 Georgina King
Sports Therapist
As a very keen sportswoman, becoming a Sports Therapist allowed Georgina to continue her involvement in Sports both playing and working.  Find out more about her here.
Matt Scarsbrook
Sports Therapist
Combining the best in hands-on massage techniques with tailored injury rehabilitation programs is at the core of what Matt does. With his deep understanding of the application of Modern Pain Science, Injury Assessment and Strength & Conditioning in rehabilitation, you're in good hands whether you're suffering from pain or aiming for performance.
Sarah Jones
Soft Tissue Therapist
Sarah provides assessment, treatment, massage and individualised rehab plans for pain and injury. She works together with her clients to find a solution to their pain and a plan to get back to full activity. From getting back into the garden to running a marathon! Don't need an assessment? Stressed, headaches? Massage can help with that too. Treatments are very individual and tailored to each client. 
Click here to read more about Sarah.
Book Your Sports Massage & Therapy Today
To book your sports message & therapy you can either use our easy online booking system or call the reception team on 01666714119.
Here's What Our Clients Think of Us
Ready to Make a Change?
Making that first appointment is the most important part. If you're not quite sure what you need don't worry, give us a call or send an email. Our job is to help you find the best way forward with the most appropriate treatment plan or class for you.