Services, Treatments and Classes available from our Malmesbury Clinic
Find out more about what we offer below and do not hesitate to give our team a call to book an appointment or arrange a 15 minute free chat.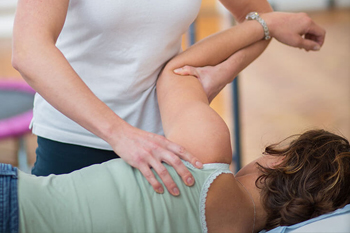 Experiencing back & neck pain, joint injuries, muscular strains & more? Find out how our physiotherapy services can increase mobility and aid rehabilitation. 
Do you regularly exercise or perform any form of physical activity? Why not find out more about our Sports Massage services to help improve imbalances in your soft tissue.
Our Chiropractic services can treat a range of mechanical disorders affecting your joints and muscles. Find out more about how our chiropractors can help you at our clinic.
Have you experienced an injury and require rehabilitation? Our Sports Therapy service can help get you back to optimal health and sport-specific fitness. 
Held in Malmesbury Town Hall – Improve your posture, strength and mobility by joining one of our pilates classes run by our instructors who are all chartered physiotherapists.
Are you concerned with blood sugars & cholesterol or even meal planning? Our Dietetics service can provide you with nutritional recommendations to help improve your well-being.
Here's What Our Clients Think of Us
For Mel (Physiotherapist)
"Thank you so very much for helping me recover from my operation. You have been wonderfully kind and understanding and encouraging! You are an excellent physio."
For Ed
"Ed took great care to listen to the feedback at each session and re-evaluate his next planned course of activity, giving me great confidence that the recovery was working – which it did!."
For Jo (Physiotherapy)
"I have to say that in all my years, working and coaching, and being treated myself, that was one of the finest pieces of work I've ever witnessed. My daughter is a very complex, head strong young lady. I am truly in awe of the way Jo took on the mental and physical challenges in a way she could accept. Very grateful for all you've done"         
 For Matt
"Just a note of thanks for 'sticking' my body back together yet again. I ran the Standish Woodland Chase, nearly 10 miles up and down terrain. Never done that distance before, was aiming for 5 miles only, then thought what the heck – walk/run the rest. And I can walk this week!!"
Ready to Make a Change?
Making that first appointment is the most important part. If you're not quite sure what you need don't worry, give us a call or send an email. Our job is to help you find the best way forward with the most appropriate treatment plan or class for you.