Ed Voss
Physiotherapist and Pilates Instructor
Becoming a Physiotherapist has always been something that was on my radar but it has taken me a little while to get here. I developed a fascination with the workings of the human body at school and I briefly flirted with the idea of following in my fathers' footsteps and pursuing a career in medicine.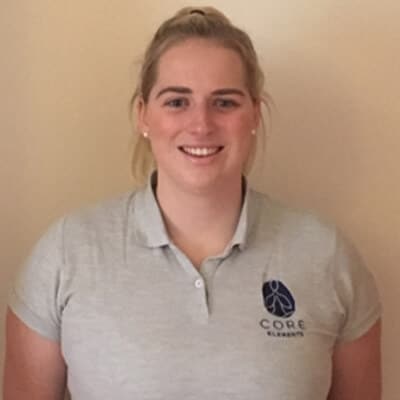 Georgina King
Sports Therapist
As a very keen sportswoman, becoming a Sports Therapist allowed Georgina to continue her involvement in Sports both playing and working.  Find out more about her here.
Ian Thomas
Dietitian
Nutrition and the psychology of health behaviours fascinates me. I enjoy learning about pathology and how the body responds to food. My main satisfaction comes from helping people overcome barriers to health, improving their quality of life.
James Forrester-Wood
Registered Chiropractor
Joining us from Malmesbury Chiropractic Clinic, James has said that he has always been destined to work in the medical industry. Luckily for us, he trained as a Chiropractor and has been working in various clinical settings since 2002. Find out more about James here.
Jo Turner
Life Coach and Clinic Director
I have been fanatical about sport and all types of exercise since I was a child. Physiotherapy was an obvious career choice for me and being able to teach movement alongside hands-on treatment.
Julia Campbell
Chartered Physiotherapist
I have always enjoyed an active lifestyle, participating in hockey and equestrian sports when I was younger, leading me to a career in physiotherapy. I qualified in 1991 and have gained a breadth of clinical experience of all age groups and movement abilities and the rewards of facilitating recovery from injury and enhancing performance.
Matt Sherrington
Physiotherapist and Clinic Director
I am passionate about working with people to overcome their problems and pain. I have learnt that each person is beautifully unique and as such, they need to be listened to and observed.
Melanie Wilson
Physiotherapist
It was Melanie's rowing hobby that got her initially interested in Physiotherapy. Having originally studied at King's College in London, she has gone on to develop her career now specialising in Acupuncture, Pilates and Physiotherapy. Find out more about Melanie here.
Monika Kisicka
Physiotherapist
With an interest in sport from a young age, Physiotherapy was an obvious career choice for Monika. With both a BSc and MSc in Physiotherapy Monika has driven herself to constantly increase her knowledge and progress in her career to, the benefit of her patients. Find out more about her here.
Ribert de Kneero
Resident Adventurer and Educator
Meet Ribert de Kneero our resident skeleton. Whilst the rest of the team are working hard he does enjoy being the fun side of the business going on adventures and sharing his knowledge.
He also considers himself a bit of a comedian so keep an eye out for some of his humerus jokes on Facebook.
Malmesbury Receptionist Team
We can't forget the three people that definitely hold our Malmesbury Clinic together, our wonderful reception team
Here's What Our Clients Think of Us
Ready to Make a Change?
Making that first appointment is the most important part. If you're not quite sure what you need don't worry, give us a call or send an email. Our job is to help you find the best way forward with the most appropriate treatment plan or class for you.